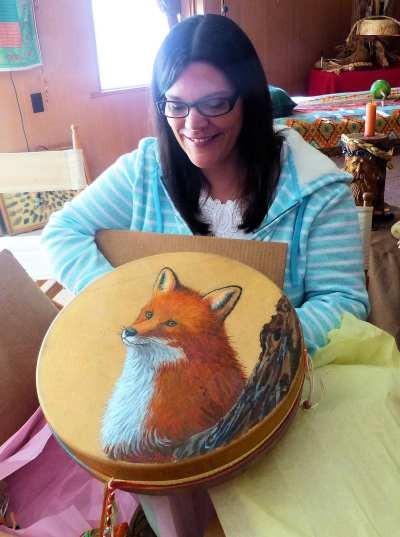 Drum Buyers Share The Exciting First Moments
Of Opening New Drums
What a thrill! What a weekend!
You probably know that musicians, healers and drum circle drummers around the world purchase drums from me...and of course, from many other fine drum makers. And oh how I wish I could be there when they first open the box! They write to tell me about receiving their packages and of the thrill of seeing their drums for the first time.* I think of each of them as I send the "box of promise" to their doors.
So last weekend was especially exciting when I got to be with two people, both of whom are students in the Shaman Training Course I teach, while they opened their drums right here in our healing center. Of course, this happens from time to time when local people purchase drums, but we just happened to have the camera on hand to record Kerra and Sara's experiences. Wow!
On Sunday, students watched eagerly as Kerra carefully eased open the lid, shuffled aside the tissue paper, and beheld her drum ally. It was a magical moment for all of us.
How could it not be? Our artist, Glenn Lewis, had painted a beautiful representation of Kerra's totem fox on her drum, and in her usual low-key style, she looked at me and said repeatedly, "Thank you, thank you, thank you..."
Many emotions swirled through my heart, too, but all I could say was, "Thank you, Kerra, for allowing me to be a part of your spiritual path. It is an honor."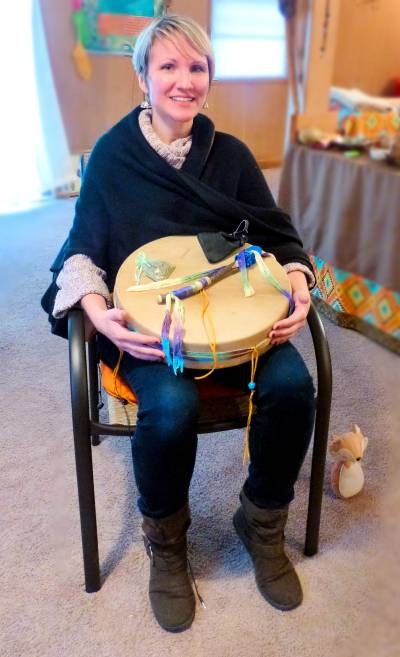 The day before, Sara had stopped by to pick up her drum, and we both wanted to dance with joy the moment she opened it. What a wonderful experience!
I was so caught up in the excitement that I had not even thought about the camera, but luckily my wife Diana retrieved it for a few shots after Sara had opened the box. It's easy to see a hint in the photo (left) that Sara and Kerra are friends, as Kerra had gifted a cute little stuffed animal fox that Sara sat next to her while posing with her new drum ally.
Truth be told, both Sara and I had misty eyes for a bit when we realized just how special an occasion it was. She was marking an important moment in her life when she grasped the drum's symbolic meaning as a portal to personal expression and freedom through the study of shamanism and a strong connection with Spirit in the intention of service. I couldn't help but be deeply moved by her reaction.
But then, as naturally occurs in the presence of a new drum, we both began to laugh at the joy of it all.
So, yes, I can say that it was a most beautiful weekend because I was granted access to two wonderful and uplifting experiences of actually sharing in the excitement and thrill of watching two healers opening medicine drums I had made for them.
Even better, the thrill was amplified by something more.
It was the satisfaction of knowing that a tradition started by people long, long ago was continuing, just as it was handed down to me. These two women, along with many, many other women and men around the world who chance to give me the honor of making drums for them— even without the thrill of being with them when they open them— are among the daring explorers of human potential. They are more than willing to defy yesterday in favor of embracing tomorrow. They are a vanguard intent on overcoming today's repressive, dogmatic and warlike clash of beliefs evident in the world with a higher concept and practice of disciplined warriorship** based on personal growth, integrity, love and service.
And they are on the move, these warriors with the golden hearts. The world is just now beginning to see their lights.
And so I say, thank you, my dear friends, wherever you are. You inspire me every day.
Aho & Namaste,
Bob
NOTES:
* You can read customer emails on the drum pages on this site or on the Thunder Valley Drums site.
**While the concept of warriorship differs slightly according to one's perspective, I believe it is far more than that portrayed in the popular culture of the U.S. For example, one could look at warriorship as being strong inside and channeling that strength toward the goal of peace, as I mentioned in a 2014 article on my other blog about a military pilot for whom I was making a drum. That same strength can be brought to bear on helping others to mend, as is familiar to shamanic healers and other Complimentary and Alternative Medicine (CAM) practitioners. Here's a good book about warriorship from a Buddhist perspective: Shambhala: The Sacred Path of the Warrior, by Chögyam Trungpa. I promise to write more about this subject, too.