This is one powerful and beautiful shamanic drum.
Thundr Marr, which means Thunder Horse, is a shamanic drum made from a maple tree that was struck by lightning. During the long, beautiful process of working together, we came to know each other very well. She told me her story. I told her mine. It is the same with every Lightning Drum I make. These drums and their spirit keepers speak to me.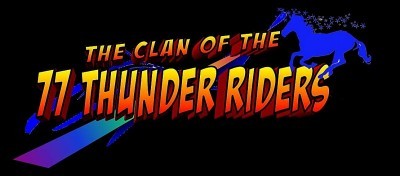 Thundr Marr's story, however, is so much more interesting than mine! Partially because of her connection with …The Clan of the 77 Thunder Riders!

How could I not be inspired? The Clan of the 77 Thunder Riders?! So instead of writing her story as I've done with other drum's stories in the past, I was stirred to share Thundr Marr's story in a series of three trailers (featured above). That's because T-Marr's guardian spirit, Ailieir, inspired me so thoroughly with her wisdom and bravery. She even allowed her portrait to be painted by our resident artist, Glenn Lewis. You'll see depictions of her in the vids and, of course, on the Thundr Marr's main page here.

So, the videos have offered lots of details about Thundr Marr, as told by Ailieir. My wife, Diana, and I do the voice-overs for Ailieir and the storytelling. There is one final video to offer, though, which I'm making now. And that is to let Thundr Marr have the final say in her own voice. Coming soon!
Aho & Namaste,
Bob