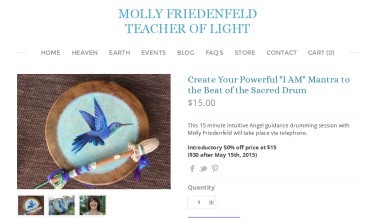 Why do you do what you do?
Well, in my case, I do what I do because I love doing it! Practicing and teaching shamanism and making drums are synonymous with love and gratitude in our household. Spiritual connection. Soul expression. Joy!
Along the way, of course, come opportunities to meet many, many wonderful people. The circle grows, intersects, connects, becomes stronger in service and inspires the heart. In short, friends happen!

And that's just the way it was when a healer from Florida ordered a drum a while back. Sure enough, Molly Friedenfeld became an instant friend. She was even so kind as to send along a few lovely gifts and write to us with photos about using her drum in her healing practice, which she features on her Website. We were overjoyed!
But there's more! Take a look.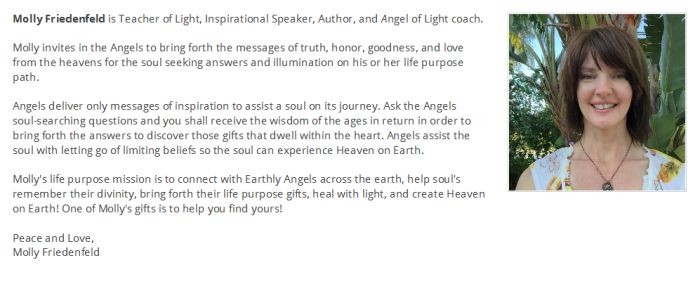 You will notice that Molly is not only a teacher, author, speaker and spiritual coach, but something else, too. I'm guessing she may not even know it. I think she is one of those special beings mentioned in the Bible as "one like a person," you know, an angel.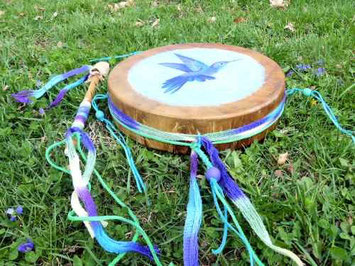 Take a look at her site and see for yourself. An angel with a drum.

Stories like this are not unusual in my line of work, however. I am quite used to encountering gifted healers and teachers all the time, many of whom reside on Earth. Yes, they purchase drums and so forth or attend my classes, which is how I come to meet them, but they and multitudes of others like them offer healings in many ways around the world, sponsor get-togethers that you and I can attend to learn things, manage Websites and generally touch people's hearts with their angel smiles.
You know who you are! Well, perhaps you know who you are. Or perhaps you live who you are without realizing it.
Whatever the case, it is a pleasure to know you. You remind me of a favorite song by Karl Williams (on the right). Fact is, you probably inspired him to write and compose it!


So it comes down to this: You are why I do what I do.

Aho & Namaste,

Bob

---