I first came up with this personal motto, Live Free, lots of years ago when I was studying the Celtic Ogham (alphabet and language, pronounced "O-em") while also making my first drums. They (Ogham and, to some extent, certain properties of the drums) both connected me with that part of my bloodline originating in and around Ireland and Scotland.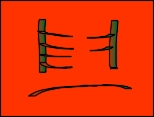 It has always seemed right to color that Druidic script in green, like in the illustration above, and here on the right, which is the first one I ever made and  later placed on the first drums' Website. I guess that's because I always associated the color with Ireland, the "Emerald Isle." There may some irony in this, at least in legend, as the Ogham is connected with the region's pagan roots, but it was only after the Church took control and routed the pagans from the land that the color green became dominant because St. Patrick had used green clover or shamrock to teach people about Catholicism. And the so-called "snakes" he was alleged to have driven out of Ireland were in fact the Druids and pagans, some of the very people I feel so deeply connected to in my practice of shamanism. Irony aside, though, I have always added emeralds to the drums I make, so their green color was a mighty influence in the motto's main color.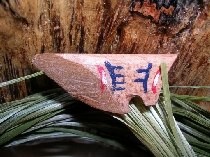 At left and below, you'll see exceptions, first when I used blue on a nameplate for a drum. (It's wrapped in green sweetgrass, though!) The other, below, has no color, save for the lightning-struck cherry wood the symbols are carved into.

At any rate, the nameplates serve as examples of how a few Ogham symbols can convey more layers of meaning than in any other language I know. The Druids, far more precise in their use of the letters than I of course, could inscribe a short selection of the primarily slanted or straight perpendicular and parallel marks that made up the language's 20 or so letters to transmit an encyclopedic message. Just a couple of the letters could impart key knowledge while including a date and time stamp (certain phase of a moon in a certain month), and possibly even suggesting hidden references to their magic workings connected with a moon goddess, according to some authorities.
The Ogham letters were also based on the sacred qualities of certain trees, including the tree's strengths, medicinal value, and its metaphysical and spiritual properties. And it was those latter qualities that led me to the motto.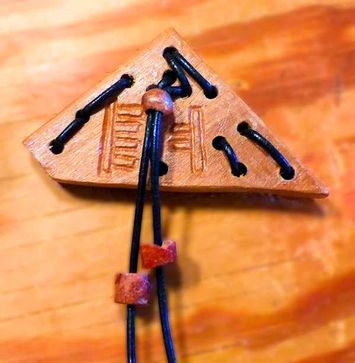 Take a look at the two Ogham letters on the nameplates I've made. They represent "willow" in the left letter, and "oak" in the right one. Both carry beautiful qualities of healing, protection and fertility for life, for example. The willow, a feminine and magic tree, grants the gifts of love, friendship, inspiration, joy, and the unrestrained and nurturing expression of the heart, among many others. And the masculine oak, of course, offers strength, stability, good fortune, abundance and the unwavering expression of life itself, among its powerful gifts. The oak is also associated across many cultures, including  Celtic, with lightning and thunder.
Starting to get the idea why these symbols are important to a guy who makes lightning-struck drums?

When you combine all of the attributes of these two, willow and oak, you have a beautifully blended female-male statement of life and freedom, at least in my interpretation. So it boiled down to two simple words: Live Free.
The motto was not my own at first, though. It was originally meant for the drums. They are the protectors and healers, the ones dedicated to service and nurturing, and as importantly, they are indistinct, gender-wise because their powers are perfectly balanced. This makes for true power as a healer, I believe, and lends these drums the full expression of both thunder and lightning. They are true experts in transmutation, which is turning one thing into another, like lead into gold or even better, poison into medicine... or even best...suffocating lifelessness and oppression into robust life and freedom. (Many scholars believe the Ogham originated as a secret code to thwart Roman conquerors in the British Isles during that time.) The drums express that manumitting power. That's because they themselves were transmuted from trees struck dead by lightning into precious living allies which can herald the thunder of transformation while generating the healing light of a thousand suns in sacred shamanic ceremony. They stand against the darkness as symbols of human freedom and expression.

All of that expression relies, of course, on the intentions of the people who play the drums, for intention is the catalyst for change, for turning illness into healing, for igniting the Emerald Ray from one heart to another and to the center of All That Is. Theirs are the voices of life.
It is only right, then, that these two letter symbols in this motto also represent a more obvious meaning, the equivalent of our letters "S" and "D." Shaman Drums.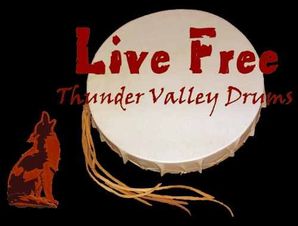 I confess it wasn't until later that I understood all of that, thanks in large part to the drums' insistence during dreamtime that I was not separate from them. I was an instrument in helping them become instruments. So they taught me that their motto was also my own.

May you Live Free too, my friend.
Aho & Namaste,
Bob
(More Info About Ogham on Wikipedia)